Espacios de la Mineria
The leading magazine for the mining industry in Mexico. Bimonthly suppliers catalog for the mining industry with the largest circulation in Mexico.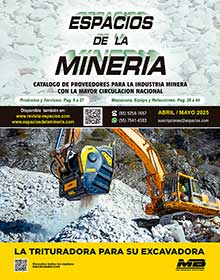 Closing Date:
January 15
March 15
May 15
July 15
September 15
November 15
Publication Date:
February / March
April / May
June / July
August / September
October / November
December / January
Published the first week of each bimester.
Bimonthly circulation:
9,000 printed copies distributed nationwide in Mexico by postal service.
11,000 digital magazines sent by e-mail to Latin America.
All ads are arranged in two specialized sections:
Equipment, Machinery and Spare Parts.
Products and Services.
Reader's profile
Bimonthly publication directed at:
Mining, cement, aggregates, construction, crushing, metallurgical, geological exploration, drilling, mining engineers, engineering geologists, petroleum engineers, surveyors and related companies in the industry of mining.
Our readers are mainly: CEOs, directors, managers and professionals. Most of them influence, decide or advise on purchase decisions.