Espacios de Construccion y Arquitectura
The leading magazine for the construction industry in Mexico. Bimonthly directory of suppliers of building materials, products and services for the construction industry with the largest circulation in Mexico.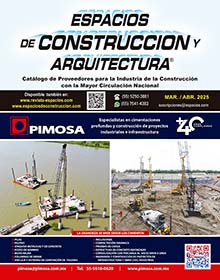 Closing Date:
December 9
February 22
April 22
June 22
August 28
October 28
Publication Date:
January / February
March / April
May / June
July / August
September / October
November / December
Published the first week of each bimester.
Bimonthly circulation.
28,000 printed copies distributed nationwide in Mexico by postal service.
63,000 digital magazines sent by e-mail to Latin America.
Reader's profile
59% Construction Companies:
Residential and commercial construction, civil engineering, structures, decorative finishes, buildings, other specialties.
14% Architects, Interior Designers and Specifiers.
9% Civil Engineers.
7% Developers.
5% Contractors: Electrical, hydraulic and sanitary installations.
4% Related Companies: Construction materials distributors & producers, finishings and coatings, remodeling, decoration, prefabricated, hardware distributors, other specialties.
2% Government: Federal, state, municipal, public works, material resources.