Espacios de Construccion y Maquinaria
The leading magazine in Mexico for construction equipment, spare parts and services. Monthly directory of suppliers of equipment, new and used, for sale and rent, for the construction industry, with the largest circulation in Mexico.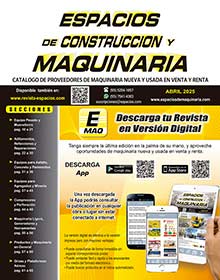 Closing Date:
The 19th day of the month prior
to its publication.
Publication Date:
The first day of each month.
Monthly circulation.
18,000 printed copies distributed nationwide in Mexico by postal service.
55,000 digital magazines sent by e-mail to Latin America.
All ads are arranged in nine specialized sections:
Earthmoving and Heavy Equipment.

Attachments, Spare Parts and Repairs.

Asphalt, Concrete and Paving.

Mining and Aggregates.

Drilling and Air Compressors.
Light Equipment, Generators and Power Tools.

Products and Machinery in General.

Cranes and Aerial Platforms.

Trucks, Trailers and Tires.
Reader's profile
67% Contractors and Construction Companies:
Urbanizations, undergrounds, pavements, drillings, structures, earthmoving, excavations, civil works, highways and roads, foundations, buildings, other specialities.
16% Related Companies: Transportation, mining, cement and concrete, parts and attachments, stone crushing, truck & equipment service centers, petrolific, aggregates, logging, asphalt, repairs and maintenance.
7% Heavy and Light Equipment Dealers and Distributors.
5% Civil Engineers.
3% Architects.
2% Government: Federal, state, municipal, public works, material resources.